Sound class description, dwellings, according to SS 25267
Sound class A: The sound class corresponds to very good acoustic conditions.
Sound class B: The sound class corresponds to significantly better acoustic conditions than sound class C. This sound class should be applied when a good living environment is requested and is the most common class.
Sound class C: The sound class provides satisfactory acoustic conditions for a majority of residents and can be applied as a minimum requirement according to the Swedish Board of Building, Planning and Housing's directives.
Remarks: The functional requirements in this standard are adapted to the respective sound classes on the basis of extensive practical experience of subjectively perceived acoustic environments in dwellings. It should be noted, however, that building constructions – for both practical and financial reasons – cannot be designed to entirely avoid audible sound from adjoining spaces from all types of activities. Audible sound can occur, for example, from jumping or substantial impact on a floor. This may even occur in buildings that fulfil the higher sound classes
Walking noice: Walking noise is addressed in SS 25268 (version 2 2007) and referred to there as "impact sound in same room". The requirement stipulates that walking noise shall be limited in spaces in which several persons are present more than temporarily, such as in large office spaces, nursery schools, etc. Guidelines for measurement and assessment of percussive sound are included in the SIS technical report 2007:15 (www.sis.se). The degree of walking noise is dependent on the floor covering used. Contact Granab for more information prior to planning.
Conditions
Granab subfloor systems, including floor coverings, can be configured for various sound requirements.
In order to fulfill the intended sound class between rooms in buildings with Granab subfloor systems in both vertical and horizontal directions, it is important:
That the slabs and walls provide suitable conditions, which can be verified by calculating the sound insulation of unfinished floors and walls according to EN 12354 or by measuring the sound insulation during the production phase according to the standard methods. Measurements are made before the underfloor system is installed with temporary actions taken during measurement to prevent airborne sound leakage between measurement spaces.
That Granab subfloor systems are installed by trained installers and and in accordance with Granab's installation instructions and checklists.
That Granab systems and the floor coverings are floating and do not have rigid contact points against the building framework.
That sound leakage through joints and installations in floors and walls is prevented.
That flank transmission via attached constructions – exterior walls, subceilings, etc. – is prevented.
That sound transmission via ventilation ducts between flats does not occur.
For more information, see Granab's general delivery and sales terms.
Definition, impact sound level:
The sound pressure level in a another room from a standardised impact sound device that hammers on a floor.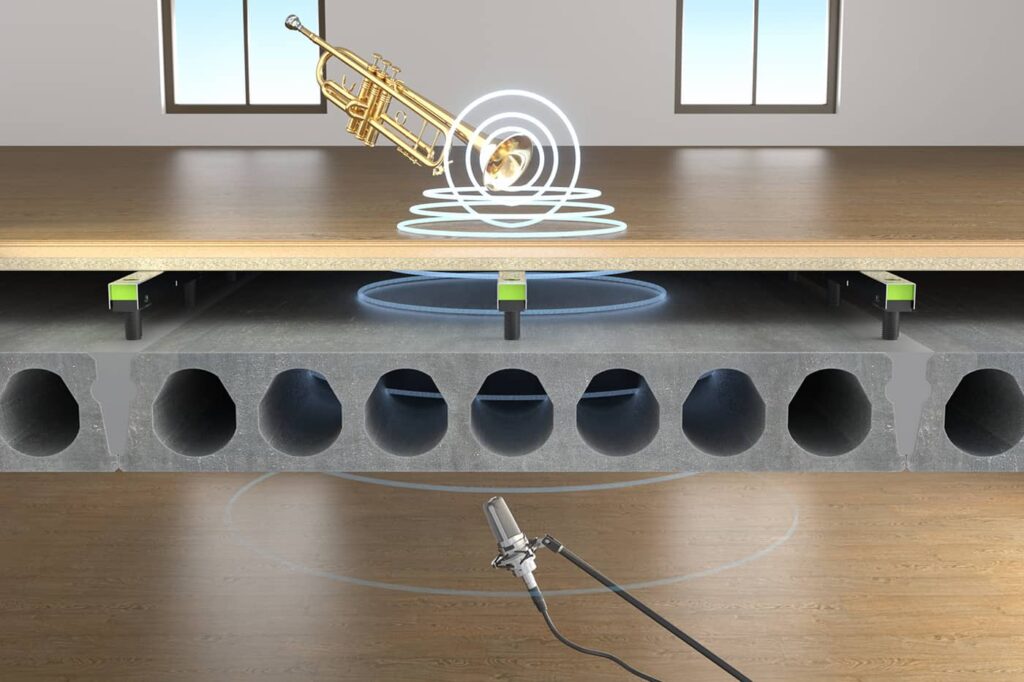 Definition, airborne sound insulation:
The separating construction's capability to reduce sounds that reach the construction through the air.
Read more about acoustics
Impact and airborne sound insulation
Impact and airborne sound insulation in homes and offices
Impact sound reduction in the lab
Impact and airborne sound reduction System 3000N
Impact and airborne sound reduction System 7000N
Step and airborne noise reduction CLT
Offices and public buildings
To ensure that planned sound classes are attained both vertically (between floors) and horizontally (on the same floor) in completed buildings, all components of the building construction must function in the correct manner. An acoustic consultant should be engaged to review planned building constructions (construction documents). During the construction phase, installation should be checked according to our checklists.
Granab subfloor system 3000N
For adjustable heights from 30 to 140 mm, excluding floor covering.
Granab subfloor system 7000N
For adjustable heights from 50 to 420 mm, excluding floor covering.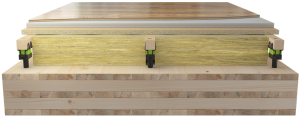 Granab Subfloor system 8000W
For adjustable height 85 – 470 mm, excl. Floor covering. For new construction and renovations, primarily for wooden flooring e.g., Cross-laminated timber.

Granab subfloor system 9000N
For adjustable heights from 70 to 420 mm, excluding floor covering.