Granab subfloor systems improves the quality of homes, offices, schools, and public buildings and makes them more environmentally friendly: they are constructed with non-deformable galvanised steel floor girders or a specially developed wooden beam and an effective sound-dampening resilient suspension system. The subfloor system is secured to the subflooring and set at the desired height. Surface flooring made from chipboard and parquet, or carpet is laid over the system.
With 25 years' experience and a strong focus on sound insulation, we are European market leaders in this type of flooring. The systems are type-approved by the SP Technical Research Institute of Sweden and technically approved by SINTEF in Norway with respect to sound dampening properties, dynamic loads, and strength.
Different types of damping elements allow us to achieve different sound properties.
Read about the benefits:
Effective impact sound dampening and airborne sound insulation for all conceivable sound classes.
Dry, fast installation method. Installed directly on untreated subfloors without wet surface levelling. No chemical additives or long drying times.
The Granab system is environmentally friendly, consists entirely of inorganic materials, applies to 3000N, 7000N and 9000N and is not affected by variations in humidity or temperature.
Flexible line routing in the space between the surface flooring and subfloor.
Low weight. The Granab system's weight is 5 kg/m2. By contrast, conventional topping solutions have a weight of 100–200 kg/m2
50% less CO2 impact than concrete.
Adapted comfort for better living and working environments.
Effective logistics on site.
Variable construction heights from 30 to 420 mm, excluding floor covering. Special heights up to 1000 mm.
Ensures secure calculation.
Ventilation systems for ventilated subfloors.
Designed for various floor heating systems.
The system makes future modifications or renovations easy.
Provides comfortable, environmentally friendly and creak-free floors.
A good range of options for end customers

.
Bygg och Miljöteknik Granab AB
Tel: +46 (0) 322-66 76 50
E-mail: epost@granab.se
Granab subfloor system 3000N
For adjustable heights from 30 to 140 mm, excluding floor covering.
Granab subfloor system 7000N
For adjustable heights from 50 to 420 mm, excluding floor covering.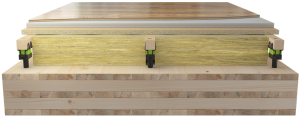 Granab Subfloor system 8000W
For adjustable height 85 – 470 mm, excl. Floor covering. For new construction and renovations, primarily for wooden flooring e.g., Cross-laminated timber.

Granab subfloor system 9000N
For adjustable heights from 70 to 420 mm, excluding floor covering.